You are here
Back to top
The Keeper: A Novel (Paperback)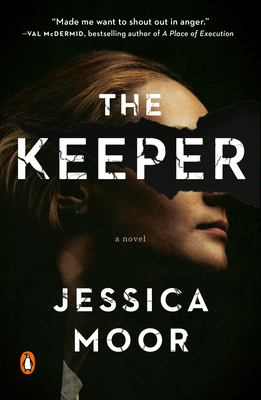 $16.00
Email or call for special order
Description
---

'Gripping, devastating...Breathtaking' Clare Mackintosh

'Powerful and chilling, with a shocking twist' Guardian

________________

He's been looking in the windows again. Messing with cameras. Leaving notes.
Supposed to be a refuge. But death got inside.

When Katie Straw's body is pulled from the waters of the local suicide spot, the police decide it's an open-and-shut case. A standard-issue female suicide.

But the residents of Widringham domestic violence shelter where Katie worked don't agree. They say it's murder.

Will you listen to them?

An addictive literary page-turner about a crime as shocking as it is commonplace, KEEPER will leave you reeling long after the final page is turned.





About the Author
---
Jessica Moor grew up in southwest London. She received a degree in English literature at Cambridge University before working in the culture and charity sectors and obtained an MA in creative writing from the University of Manchester. She lives in Berlin.
Praise For…
---
'Moor's clever, literary thriller is a compelling story . . . A writer to watch' - Independent (London)

'Still have a Girl on the Train-shaped hole in your life? Add Keeper to your list. Moor's debut is a feminist whodunnit' - Sunday Times (London)

'Compelling, tense and pacy' - Observer (London)

'Vastly impressive . . . Deeply affecting and superbly told, it demands to be read' - Daily Mail (London)

'This is a thriller, but its pacy insights make it one that you need to read' - Cosmopolitan (UK)

'A fabulous new writer' - Richard Osman, author of The Thursday Murder Club

"Jessica Moor is a new young writer I believe in. She's smart, she'll reach a different generation, she has plenty to say that is political and necessary. And she can tell a story. She's versatile, unafraid . . . with a voice of her own."
—Jeanette Winterson, bestselling author of Oranges Are Not the Only Fruit and Written on the Body

"Jessica Moor marshals her material cleverly. . . . Her portraits of the women and their backstories are varied and credible; they made me want to shout out in anger."
—Val McDermid, bestselling author of A Place of Execution

"Reading The Keeper is a visceral experience . . . cleverly reminding us that for some women simply existing in a man's world is more dangerous than anything else."
—Araminta Hall, author of Our Kind of Cruelty

"The Keeper is extraordinary. Humane, compelling, and absolutely furious in the best possible way. I read the last chapters with my hand clapped over my mouth."
—Flynn Berry, author of A Double Life
 
"The Keeper is wickedly paced and utterly chilling, making space for the interior lives of its victims and their gradually shrinking worlds, all the while exposing the failures of the systems that are supposed to protect them. As compulsive as it is heartbreaking."
—Rosie Price, author of What Red Was

"A timely and thought provoking novel that explores issues of power and control with a sensitive and deft touch."
—Nuala Ellwood, internationally bestselling author of My Sister's Bones

"Sharp, incisive writing, and frighteningly believable characters. And what a twist."
—Simon Lelic, internationally bestselling author of The New Neighbors

"Pacy, absorbing and electric in its detail, The Keeper is compassionately, furiously true. Men should read this book, and I'd be shocked to meet a woman who doesn't find some part of herself here."
—Beth Underdown, author of The Witchfinder's Sister

"Extraordinary and compelling."
—Cara Hunter, internationally bestselling author of Close to Home

"Intense and compassionate . . . it made me feel seen."
—Hanna Jameson, author of The Last