You are here
Back to top
The No. 1 Ladies' Detective Agency 5-Book Boxed Set (No. 1 Ladies' Detective Agency Series) (Boxed Set)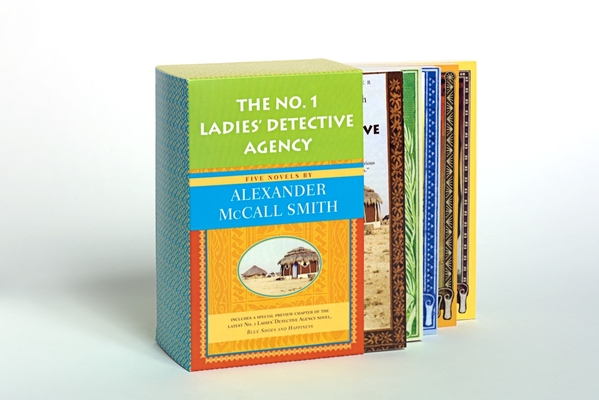 $79.75
Email or call for special order
Description
---
Fans around the world adore the bestselling No. 1 Ladies' Detective Agency series and its proprietor, Precious Ramotswe, Botswana's premier lady detective. In this charming series, Mma Ramotswe—with help from her loyal associate, Grace Makutsi—navigates her cases and her personal life with wisdom, good humor, and the occasional cup of tea.

The No. 1 Ladies' Detective Agency: Precious Ramotswe is hired to track down a missing husband, uncover a con man, and follow a wayward daughter. But the case that tugs at her heart, and lands her in danger, is a missing 11-year-old boy, who may have been snatched by witch doctors.

Tears of the Giraffe: Mma Ramotswe tracks a wayward wife, uncovers an unscrupulous maid, and searches for an American man who disappeared into the plains many years ago.

Morality for Beautiful Girls: Precious Ramotswe investigates the alleged poisoning of the brother of an important "Government Man," and the moral character of the four finalists of the Miss Beauty and Integrity Contest, the winner of which will almost certainly be a contestant for the title of Miss Botswana.

The Kalahari Typing School for Men: A rival detective agency has opened in town—an agency that does not have the gentle approach to business that Mma Ramotswe's does.

The Full Cupboard of Life: Mma Ramotswe has been approached by a wealthy lady to check up on several suitors. Are these men interested in the lady or just her money? 
About the Author
---
Alexander McCall Smith is the author of the huge international phenomenon, The No. 1 Ladies' Detective Agency, and The Sunday Philosophy Club series. He was born in what is now known as Zimbabwe and he was a law professor at the University of Botswana and at Edinburgh University. He lives in Scotland, where in his spare time he is a bassoonist in the RTO (Really Terrible Orchestra).