You are here
Back to top
The Expats: A Novel (Paperback)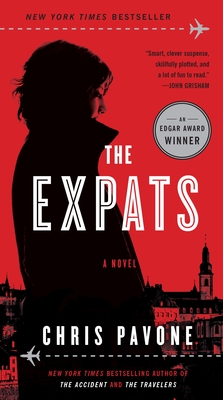 Email or call for special order
Description
---
Can we ever escape our secrets?
 
Kate Moore's quiet Luxembourg days are filled with playdates and coffee mornings, her weekends in Paris and skiing the Alps. But Kate is also guarding a tremendous secret—one that's becoming so unbearable it begins to unravel her new expat life. She suspects that another American couple are not who they claim to be, her husband is acting suspiciously, and as she travels around Europe, she finds herself looking over her shoulder, increasingly terrified that her own past is catching up with her. As Kate begins to dig, to uncover the secrets of the people around her, she finds herself buried in layers of deceit so thick they threaten her family, her marriage, and her life.
About the Author
---
CHRIS PAVONE is the New York Times bestselling author of The Expats, The Accident, and The Travelers. He is the winner of the Edgar and Anthony awards for best first novel. He was a book editor for nearly two decades and lives in New York City with his family.
Praise For…
---
"Sly. . . . Pavone strengthens this book with a string of head-spinning revelations in its last pages. . . . The tireless scheming of all four principals truly exceeds all sane expectations." —The New York Times

"Bombshell-a-minute. . . . Pavone creates a fascinating, complicated hero." —Entertainment Weekly

"A gripping spy drama and an artful study of the sometimes cat-and-mouse game of marriage." —Family Circle

"Smartly executed. . . . Pavone is full of sharp insights into the parallels between political espionage and marital duplicity. . . . Thoroughly captivating." —The New York Times Book Review

"Superb. . . . [Pavone] expertly draws readers along with well-timed clues and surprises. . . . An engineering marvel." —Richmond Times-Dispatch

"Expertly and intricately plotted, with a story spiraling into disaster and a satisfyingly huge amount of double-crossing, The Expats certainly doesn't feel like a first novel.  This is an impressively assured entry to the thriller scene." —The Guardian (London)

"Refreshingly original. . . . Part Ludlum in the pacing, part Le Carré in the complexity of story and character, but mostly Chris Pavone. . . . A thriller so good that you wonder what other ideas [Pavone] has up his cloak, right alongside the obligatory dagger." —The Star-Ledger

"Amazing. . . . Impossible to put down. . . . Pavone invokes memories of the great writers of spy fiction of the past, and he has the chops to be mentioned with the best of them." —Associated Press

"A blast. . . . Pavone is spinning a fantastic tale with action that spans the globe." —Dallas Morning News

"Highly entertaining." —Mystery Scene

"Thoroughly enjoyable." —Suspense Magazine

"Hard to put down." —San Francisco Bay Guardian

"Stunningly assured. . . . An intricate, suspenseful plot that is only resolved in the final pages." —Booklist (starred review)

"Brilliant, insanely clever, and delectably readable." —Library Journal (starred review)

"Meticulously plotted, psychologically complex. . . . The sheer amount of bombshell plot twists are nothing short of extraordinary, but it's Pavone's portrayal of Kate and her quest to find meaning in her charade of an existence that makes this book such a powerful read." —Publishers Weekly (starred review)

"Impressive. . . . With almost more double-crosses than a body can stand." —Kirkus (starred review)

"Bristling with suspense and elegantly crafted, The Expats introduces a compelling and powerful female protagonist you won't soon forget. Well done!" —Patricia Cornwell

"I often thought I was again reading the early works of Ken Follett, Frederick Forsyth, and Robert Ludlum. Smart, clever suspense, skillfully plotted, and a lot of fun to read." —John Grisham

"One of the best-written spy thrillers I've ever read. . . . A riveting story of great-game deceptions wrapped inside the smaller deceptions of marriage. At moments horrifying, hilarious, and very wise, The Expats has given Chris Pavone a permanent place on my short list of must-read authors." —Olen Steinhauer

"A gem. Clever, suspenseful with a jet fueled story that rockets from one corner of the globe to another, it is never less than a thrill a minute. . . . An absolute winner!" —Christopher Reich

"Spy stories need to budge over to make space for Kate Moore—mother, wife, expat and far more than she appears. I loved her." —Rosamund Lupton

"Riveting.  One of the most accomplished debuts of recent years: not just a worthy addition to the literature of espionage and betrayal, but a fine portrait of a marriage disintegrating under the pressure of secrets and lies." —John Connolly