You are here
Back to top
Black Sun: A Novel (Paperback)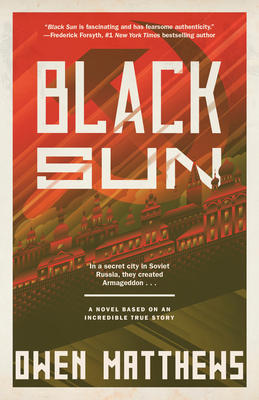 Description
---
A thrilling debut set at the height--and in the heart--of Soviet power, with intricately plotted machinations, secrets and surveillance, corrupt politicos and puppet masters in the Politburo, and one devastating weapon.

It is the dawn of the 1960s. In order to investigate the gruesome death of a brilliant young physicist, KGB officer Major Alexander Vasin must leave Moscow for Arzamas-16, a top secret research city that does not appear on any map.
There he comes up against the brightest, most cutthroat brain trust in Russia who, on the orders of Nikita Khrushchev himself, are building a nuclear weapon with 3,800 times the destructive potential of the Hiroshima bomb. RDS-220 is a project of such vital national importance that, unlike everyone else in the Soviet Union, the scientists of Arzamas-16 are free to think and act, live and love as they wish, so long as they complete the project and prove to their capitalist enemies that the USSR now commands the heights of nuclear supremacy.
About the Author
---
Owen Matthews reported on conflicts in Bosnia, Lebanon, Afghanistan, Chechnya, Iraq and Ukraine and was Newsweek's Bureau Chief in Moscow from 2006-2016. He is the author of several nonfiction books, including Stalin's Children, Glorious Misadventures, and An Impeccable Spy.
Praise For…
---
"[A] Stunning debut. . .[Matthews'] marriage of fact and fiction is masterly." 
The Times (London) 

"Matthews, who really knows the Soviet world, evokes it with absolute authenticity. . .beautifully drawn."
The Tablet 

"A rattlingly good yarn. . .Matthews has the uncanny ability to transport the reader back in time to the Soviet Union of 1961. . .a debut novel which deserves a wide readership."
Daily Herald 

"Matthews is an excellent storyteller, and the plot moves at a brisk pace that keeps us interested throughout. . .Black Sun is the kind of thriller you want to savor as you turn the pages, suspenseful and thought provoking, but before you know it you've reached the end, and it's time to look for more from this author."
New York Journal of Books

"[An] enthralling debut novel. . .Inspired by a true event in the cold war, Black Sun propels Matthews straight into the first division of thriller writers."
Financial Times (UK)

"Black Sun is an impressive debut and it's not a stretch to say that Matthews' whole life led him to this book. . .Matthews knows the landscape and the people, and his recreation of Cold War-era Russia and the inner workings of Soviet government and society are so good they seem effortless. The book is deeply researched and filled with small details and brief scenes that give the setting a cold, clear life...The characters are also sharply drawn. A thriller like this lives or dies by its protagonist and Vasin is a breath of fresh air."
Criminal Element

"This thrilling and suspenseful and original thriller of murder and power is a compelling voyage into the darkest secret city of the soviet nuclear project by an expert on all of Russian life."
Simon Sebag Montefiore, New York Times bestselling author of The Romanovs and Stalin

"There are some authors who have gone out into the world to observe the good, the bad and the ugly. Owen Matthews is such a novelist. Black Sun is fascinating and has fearsome authenticity."
Frederick Forsyth, #1 New York Times-bestselling author

"A stunning debut. Matthews writes enviably well and knows Soviet Russia inside-out. Fantastic."
Charles Cumming, New York Times bestselling author of The Trinity Six

"To call the novel chilling is an understatement. . .If you think you already know about the Soviet drive for world dominance via nuclear supremacy and the extent to which it was enforced by brutality, secrets, and surveillance but foiled by ideological conflict and a corrupt Politburo, think again."
Booklist (starred review)

"Matthews is especially adept at limning the bureaucratic infighting and political double-dealing that permeate Soviet society...The persistence of history is a powerful tidal presence."
Kirkus

"One of the best thrillers of recent years...a tour-de-force. It drips with authenticity from every page...a page-turning, thumping good read."
David Young, Stasi Child

"A thoroughly dark and disturbing thriller."
Sport (UK)

"Outstanding. . .Matthews writes superbly."
Sunday Times 'Crime/Thriller' book of the Month 
 
"A stunning debut thriller. . .ferocious, authentic and utterly terrifying… Absolutely riveting." 
Daily Mail
 
"A terrific thriller, knowledgeably written, intricately plotted and the more chilling for being based on a true story."
Choice magazine 'Book of the Month'