You are here
Back to top
Aunt Dimity and the Heart of Gold (Aunt Dimity Mystery) (Paperback)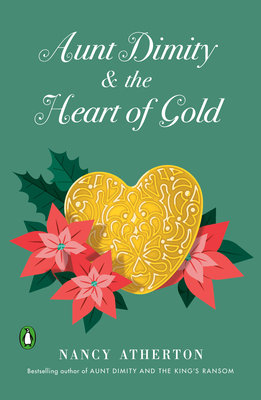 Description
---
In this new installment of the bestselling Aunt Dimity series, a dreary Christmas leads to hidden treasure and new friendships

It's almost Christmas in the small English village of Finch--and everyone is sick. Though many of the villagers regretfully decline their invitations to Emma Harris's annual Christmas bash, Lori Shepherd has no intention of missing it. When the winter weather takes a turn for the worse, it's agreed that none of the guests will leave until morning. There's general merriment as the Christmas party becomes a pajama party--until a car appears in the winding driveway and promptly slides off the slick pavement and into a ditch.

Matilda "Tilly" Trout--a lost and scatterbrained, middle-aged woman--is mercifully unhurt and invited to stay the night. While she catches her breath, Emma asks her other guests if they would like a tour of the Manor--including an odd room that puzzles her. Several guests put forth guesses as to its purpose, but it's Tilly who correctly identifies the room as a chapel. Placing a palm on one of the ornately-carved panels, Tilly finds a hidden compartment concealing a pile of glittering treasure--including an exquisitely decorated heart made of solid gold. Where did it come from, and why does it look so different from everything else in the chapel? Why didn't Emma even know about this hidden compartment in her own home until now--and how did Tilly?

With Aunt Dimity's otherworldly help and Tilly's bewildering store of knowledge, Lori and friends set out to unravel the mystery behind the heart of gold. And, against all odds--and Christmas finally comes to Finch!
About the Author
---
Nancy Atherton is the bestselling author of twenty-four Aunt Dimity Mysteries. The first book in the series, Aunt Dimity's Death, was voted "One of the Century's 100 Favorite Mysteries" by the Independent Mystery Booksellers Association. She lives in Colorado Springs, Colorado.
Praise For…
---
 Praise for Aunt Dimity and the Heart of Gold
"Atherton keeps the suspense high . . . Series fans and newcomers alike will enjoy spending time in Finch with its endearing residents, earthly and otherwise." —Publishers Weekly

Praise for Aunt Dimity and the King's Ransom
"Coziest of cozies and a good bet for those who miss Dorothy Cannell's Ellie Haskell mysteries." 
--Booklist
"Heartwarming and filled with all kinds of interesting people" 
--Kirkus
"Fans of sweet mysteries will be well satisfied" 
--Publisher's Weekly
Praise for 
Aunt Dimity and the Buried Treasure
"Atherton smoothly blends history, village life, and the otherworldly."
—Publishers Weekly


"[A] spectral charmer...Atherton's Aunt Dimity Fans will be delighted." 
—Publishers Weekly (audio review)
Praise for 
Aunt Dimity and the Summer King
"Another hit in the long line of Aunt Dimity books." 
—Suspense Magazine
"
Aunt Dimity and the Summer King
 illuminates the layered writing room of Nancy Atherton's mind. . . . The best of Nancy Atherton on full display." 
—
Electric Review
"a wonderful cozy that is not just well written, it is enchanting...every scene is superbly crafted to perfection. Even if you have not read all the books in this series, I have not, you can enjoy and immerse yourself in this cozy mystery." 
—Open Book Society
"I love the graceful style... the sense of tight-knit community, characters who aren't afraid to be themselves, and, the unique paranormal element...I only wish I had learned about this series earlier." 
—Gotta Write Network

"Atherton keeps the suspense high . . . Series fans and newcomers alike will enjoy spending time in Finch with its endearing residents, earthly and otherwise."