You are here
Back to top
What Happened to the Bennetts (Paperback)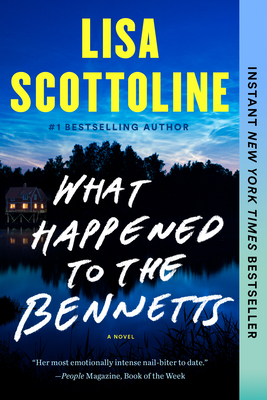 Description
---
From #1 bestselling author Lisa Scottoline comes a pulse-pounding new novel.

Your family has been attacked, never again to be the same.
Now you have to choose between law…and justice.

Jason Bennett is a suburban dad who owns a court-reporting business, but one night, his life takes a horrific turn. He is driving his family home after his daughter's field hockey game when a pickup truck begins tailgating them, on a dark stretch of road. Suddenly two men jump from the pickup and pull guns on Jason, demanding the car. A horrific flash of violence changes his life forever.

Later that awful night, Jason and his family receive a visit from the FBI. The agents tell them that the carjackers were members of a dangerous drug-trafficking organization--and now Jason and his family are in their crosshairs.

The agents advise the Bennetts to enter the witness protection program right away, and they have no choice but to agree. But WITSEC was designed to protect criminal informants, not law-abiding families. Taken from all they know, trapped in an unfamiliar life, the Bennetts begin to fall apart at the seams. Then Jason learns a shocking truth and realizes that he has to take matters into his own hands.

Sometimes justice is a one-man show.
About the Author
---
Lisa Scottoline is the New York Times–bestselling and Edgar Award–winning author of thirty-three novels. She has thirty million copies of her books in print in the United States and has been published in thirty-five countries. Scottoline also writes a weekly column with her daughter, novelist Francesca Serritella, for The Philadelphia Inquirer, which has been adapted into a series of memoirs. She lives in the Philadelphia area with an array of disobedient pets.

Praise For…
---
Advance Praise for What Happened to the Bennetts

"Scottoline just keeps ratcheting up the pressure in what may be her most emotionally intense nail-biter to date."
—People

"A Must-Read Book"
—USA Today

"Just might be the best book Scottoline has ever written, a masterpiece of misdirection, where nothing is as it seems, and a scorching character study of a man at the end of his rope who's not about to go down without a fight."
—Providence Journal

"Explosive new complications in the most relentless of all her mysteries. A high-octane thriller whose hero is tossed into one impossible situation after another. Best started early in the morning."
—Kirkus Reviews (starred review)
 
"Twisty, propulsive and exhilarating. From this novel's first pages, Scottoline caroms us into a heart-throttling journey as the Bennett family must navigate both urgent dangers and their own complicated pasts—all while the clock ticks. What Happened to the Bennetts left me dazzled and breathless."
—Megan Abbott, author of The Turnout

"An emotion-packed thriller that stabs at the core of family, betrayal, and justice. Scottoline drives the plot at breakneck speed and keeps readers turning the pages. A must read."
—Robert Dugoni, author of the Tracy Crosswhite Series
 
"Scottoline is at the top of her already masterful game in this gripping thriller about parental love. From its opening, heart-grabbing pages, What Happened to the Bennetts is compulsively readable, seamlessly delivering one blazing twist after another with relentless pacing. You won't be able to put this one down."
—Alafair Burke, author of Find Me
 
"In What Happened to the Bennetts, Scottoline thrusts the reader into one family's living nightmare—and their long, nail-biting battle to return to some sense of normalcy."
—Riley Sager, author of Survive the Night

"This heart-wrenching novel…morphs into a high-speed, action-packed thriller…Fans will get their money's worth."
—Publishers Weekly

"Scottoline's gift for crafting human connections is displayed here...setting this thriller apart from other suburban-hero stories. A good choice for Greg Hurwitz and Harlan Coben fans."
—Booklist

"Clear the calendar before you start reading; What Happened to the Bennetts is so good you may not want to put it down until the hard-won and well-earned finale."
—New York Journal of Books

"[Scottoline's] best thriller...Fast-paced with so many twists and turns, and I felt like something happened on every page."
—Bookreporter


Praise for Scottoline's Thrillers

"Scottoline writes riveting thrillers that keep me up all night, with plots that twist and turn."
--Harlan Coben, author of The Match
 
"Scottoline is a powerhouse."
--David Baldacci, author of Mercy
 
"Scottoline is one of the very best writers today."
--Michael Connelly, author of The Dark Hours

"Scottoline knows how to keep readers in her grip."
--The New York Times Book Review