You are here
Back to top
Nothing Stays Buried (A Monkeewrench Novel #8) (Hardcover)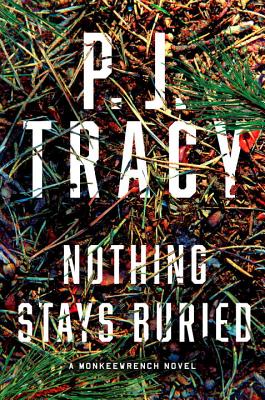 Description
---
The Monkeewrench crew returns to face the city of Minneapolis's worst nightmare—a rampant serial killer on the loose—in this electrifying thriller from the author of The Sixth Idea.
 
When Minneapolis homicide detectives Leo Magozzi and Gino Rolseth are called to a crime scene in a heavily wooded city park, everything about the setting is all too familiar. And when they discover a playing card on the victim's body, their worst fears are confirmed—there's a serial killer operating in the city for the first time in years.

Across town, Grace MacBride and her unconventional partners at Monkeewrench Software find themselves at both personal and career crossroads. Weary of the darker side of their computer work for law enforcement, they agree to take on a private missing-persons case in a small farming community in southwestern Minnesota.

As the violence accelerates in Minneapolis, Magozzi and Gino soon realize their killer is planning to complete the deck, and they enlist Monkeewrench to help stop the rampage. As a baffling tangle of evidence accumulates, the cops and Monkeewrench make the unlikely connections among a farmer's missing daughter, a serial killer, and a decades-old stabbing that brings them face-to-face with pure evil.
About the Author
---
P. J. Tracy is the pseudonym of the bestselling mother-daughter writing team Patricia ("P. J.") Lambrecht and Traci Lambrecht, whose Monkeewrench novels have won the Anthony, Barry, Gumshoe, and Minnesota book awards. P. J. was a longtime resident of Minnesota until her death in December 2016. Traci remains in rural Minnesota, just outside Minneapolis, and continues writing about the Monkeewrench gang.
Praise For…
---
"Enjoyable...Tracy's easy style keeps the action moving nicely to the satisfying conclusion."—Publishers Weekly
 
"The banter is witty, the characters quirky, the plot action-packed." –Minneapolis Star Tribune, Summer Reads Pick
 
"The eighth Monkeewrench novel, like its predecessors, relies on character as much as crime, and the authors…have created a fine recurring cast that nicely mixes crusty, bantering cops and eccentric software geeks." --Booklist


Praise for the P. J. Tracy Novels

"It says a lot about the relationship between Patricia J. and Traci Lambrecht—the mother-daughter team who write genuinely funny (as opposed to jokey) mysteries as P. J. Tracy—that they are not only continuing but also getting better. The mixture of sudden death and weird humor proves the Lambrechts are as expert at walking the high wire as any writer—single act or double—now working the mystery circus." —Chicago Tribune
 
"The great pleasures of a P. J. Tracy book are not only its multiple subplots and how well they cut in and out of the novel's main story line to add suspense, but also how well the writers balance humor with violence and an authentic Midwestern wisdom with believable one-of-a-kind characters." —Minneapolis Star-Tribune
 
"If you haven't been introduced to the Monkeewrench gang . . . you are missing out on complex characters, witty repartee, and exciting thrills. Tracy, a mother-daughter writing team, skillfully incorporates a diverse array of elements . . . while keeping the thrill level high and the writing sharp and frequently funny . . . Top-notch." —Library Journal
 
"A killer read in every way . . . With its menacing suspense, snappy dialogue and techno edge, Monkeewrench moves at hyperspeed. Bottom line: Thriller fans will go ape." —People