You are here
Back to top
The Cabinets of Barnaby Mayne: A Mystery (Hardcover)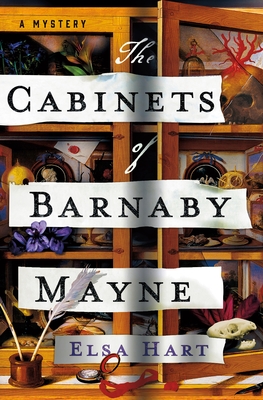 $26.99
Email or call for special order
Description
---
Winner of the Mary Higgins Clark Award
One of Publishers Weekly's Top Ten Fall Mysteries
Minneapolis Star Tribune's Summer Reading List
One of The Washington Post's Five New Thrillers & Mysteries for the Beach
One of Amazon's Best of the Month
One of Christian Science Monitor's Ten Best Books of the Month
One of LitHub's Five Books You May Have Missed This Month

From the author of the acclaimed Li Du novels comes Elsa Hart's new atmospheric mystery series.

London, 1703. In a time when the old approaches to science coexist with the new, one elite community attempts to understand the world by collecting its wonders. Sir Barnaby Mayne, the most formidable of these collectors, has devoted his life to filling his cabinets. While the curious-minded vie for invitations to study the rare stones, bones, books, and artifacts he has amassed, some visitors come with a darker purpose.

For Cecily Kay, it is a passion for plants that brings her to the Mayne house. The only puzzle she expects to encounter is how to locate the specimens she needs within Sir Barnaby's crowded cabinets. But when her host is stabbed to death, Cecily finds the confession of the supposed killer unconvincing. She pays attention to details—years of practice have taught her that the smallest particulars can distinguish a harmless herb from a deadly one—and in the case of Sir Barnaby's murder, there are too many inconsistencies for her to ignore.

To discover the truth, Cecily must enter the world of the collectors, a realm where intellect is distorted by obsession and greed. As her pursuit of answers brings her closer to a killer, she risks being given a final resting place amid the bones that wait, silent and still, in the cabinets of Barnaby Mayne.
About the Author
---
Elsa Hart is the author of several acclaimed mystery novels set in eighteenth-century China, including City of Ink, one of Publishers Weekly's Best Books of 2018.

She was born in Rome, but her earliest memories are of Moscow, where her family lived until 1991. Since then she has lived in the Czech Republic, the U.S.A., and China. She earned a B.A. from Swarthmore College and a J.D. from Washington University in St. Louis School of Law.
Praise For…
---
"Ms. Hart, the author of a trio of novels involving an exiled librarian in 18th-century China, proves adept at depicting this "realm of the collectors . . . a shadowy place full of illusions," tainted by greed and fraud and now homicide. She puts her cast of obsessives and dilettantes in the context of a larger England where Queen Anne is on the throne and "there were enough new laws, new wars, and new books to sustain any argument." — The Wall Street Journal

"The author of three mysteries set in 18th-century China brings her talented raconteur's voice to 1703 London." — The Washington Post, Five New Thrillers & Mysteries That Are Perfect for the Beach

"[A] delightful whodunit." — Christian Science Monitor, One of the ten best books of the month

"[Hart] should win over readers who like to mix their cozies with their quirkies." — LitHub, Five Books You May Have Missed This Month

"This is a note-perfect whodunit . . . High society and the secret societies within make a terrific backdrop for a story that often hinges on the ways women are presumed unimportant, thus allowing them to explore and find evidence while going undetected." —BookPage

"Hart is bound to become a household name for readers who love clever and fair whodunits." — Publishers Weekly (starred review)

"Highly recommended for historical fiction readers looking for a peek into a fascinating closed society. It is an equally solid choice for historical mystery readers who want to see women with intelligence and agency navigate a time and place not meant for them, but where they thrive nonetheless which solving a delightfully twisty murder." — Library Journal (starred review)

"Hart's juicy character portraits and graceful prose make for a delightful period whodunit." — Kirkus Reviews

"A must-read series debut for fans of Tasha Alexander's and Deanna Raybourn's historical whodunits." — Booklist

"This gripping series opener set in the fascinating cutthroat world of obsessive collectors features a talented woman searching for a purpose in life other than marriage." —Stop, You're Killing Me!

"Elsa Hart's novels are not just on my must-read list but my must-buy list, as her historical mysteries always keep me hooked from engaging start to satisfying finish. Engrossing characters and lush setting, enshrouded within a murder mystery brimming with compelling curiosities, make this a stunning read. Highly recommended." — Historical Novels Society

"A delightfully enigmatic murder in an interesting setting." — The Daily Nerd

"The mystery itself was well-done. We had several clues and a few suspects. There are some moments of danger for the women and a twist that I rather enjoyed. This London is dark and dreary and dangerous, but it's also a small town." — Carol's Notebook

"I adored it . . . Hart utilized every part of the time period and drew out the creepiness of objects within Sir Barnaby's collection to create an additional character. One that crept right out of the pages as both formidable and perilous." — Novel Lives