You are here
Back to top
The Pandora Deception: A Novel (The WMD Files #4) (Hardcover)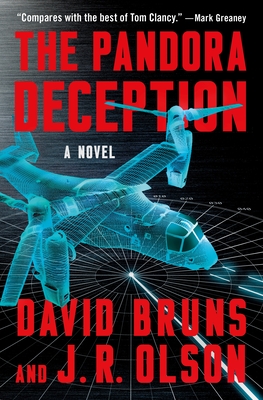 $28.99
Email or call for price.
Description
---
With The Pandora Deception, Bruns and Olson return with a captivating portrayal of modern day combat that "compares with the best of the timeless classics by Tom Clancy, Dale Brown, and Stephen Coonts." (Mark Greaney)

To effectively combat the rise of global terrorism, the U.S. military must now rely on more than traditional weapons and tactics. Don Riley of the U.S. Cyber Command is given charge of a brand new effort: a new team in the CIA Operations Directorate called Emerging Threats. To establish this team he recruits three talented recent commissioned naval officers—Janet Everett, Michael Goodwin, and Andrea Ramirez—and together they uncover a new terrorist group. The group is going under the name of the Mahdi, a messiah figure of Islamic mythology, and is operating in the geopolitical tinderbox that is the Nile River basin.

But the Mahdi is no ordinary terrorist group. Their stock in trade is not the usual suicide bombings and surprise attacks. In fact, the Mahdi has created and is about to release the worst kind of weapon: a hugely destructive bioweapon, known as Pandora, with a devastating fatality rate. And it will take all the resources that the U.S. can bring to bear—intelligence assets, cyber warfare and military assaults—to not only find out who is really behind the Mahdi, but to stop them before they successfully destroy the balance of power in the Middle East.
About the Author
---
DAVID BRUNS is a graduate of the U.S. Naval Academy and was an officer in the submarine force, before leaving the Navy for corporate life. He lives in Shakopee, Minnesota.


With J. R. Olson, Bruns is the author of the WMD (Weapons of Mass Deception) Files series.
J. R. OLSON spent more than 20 years in the Navy, retiring as a commander. He now teaches college courses in Intelligence and Counter-Terrorism. He lives in Webster, Minnesota.


With David Bruns, Olson is the author of the WMD (Weapons of Mass Deception) Files series.