You are here
Back to top
Blame the Dead (Eddie Harkins #1) (Paperback)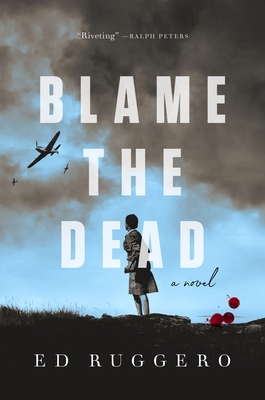 Description
---
Ed Ruggero's Blame the Dead is the thrilling start of an action-packed and timely World War II series by a former Army Officer for fans of compelling historical fiction.

Set against the heroism and heartbreak of World War II, former Army officer Ed Ruggero brilliantly captures, with grace and authenticity, the evocative and timeless stories of ordinary people swept up in extraordinary times.

Sicily, 1943. Eddie Harkins, former Philadelphia beat cop turned Military Police lieutenant, reluctantly finds himself first at the scene of a murder at the US Army's 11th Field Hospital. There the nurses contend with heat, dirt, short-handed staffs, the threat of German counterattack, an ever-present flood of horribly wounded GIs, and the threat of assault by one of their own—at least until someone shoots Dr. Myers Stephenson in the head.

With help from nurse Kathleen Donnelly, once a childhood friend and now perhaps something more, it soon becomes clear to Harkins that the unit is rotten to its core. As the battle lines push forward, Harkins is running out of time to find one killer before he can strike again.
About the Author
---
Ed Ruggero is a West Point graduate and former Army officer who has studied, practiced, and taught leadership for more than twenty-five years. His client list includes the FBI, the New York City Police Department, CEO Conference Europe, the CIA, the Young Presidents Organization, and Forbes, among many others. He has appeared on CNN, The History Channel, the Discovery Channel, and CNBC. Ruggero's previous work includes the nonfiction books Duty First: West Point and the Making of American Leaders and The First Men In: U.S. Paratroopers and the Fight to Save D-Day. He lives in Philadelphia.
Praise For…
---
"The title of this riveting, finely crafted novel may be Blame the Dead, but I blame author Ed Ruggero--for keeping me up at night, reading "just one more" chapter then another and another. Whether your interests lie in a well-wrought mystery, a classic cop story, historical settings or first-rate military fiction, this thoroughly enjoyable novel set during World War II checks the block. Great pacing, compelling characters, solid research and a fiendishly clever plot add up to non-stop reading excitement." —Ralph Peters, author of Cain at Gettysburg and Judgment at Appomattox

"This book is a lot of fun, written with an insider's feel for the U.S. Army and its history." —Thomas E. Ricks, author of The Generals and Fiasco: The American Military Adventure in Iraq

"Ruggero's story sets itself apart with the vividly rendered field-hospital setting and the focus on the battle-hardened nurses. A solid choice for WWII-thriller fans." —Booklist

"At the start of this exceptional WWII mystery and series launch, Lt. Eddie Harkins, an MP who was once a Philadelphia beat cop, comes across a murder scene near Palermo, Sicily.... Ruggero plays fair with his readers and makes the carrying out of a homicide inquiry in wartime both exciting and plausible." —Publishers Weekly, starred review

"Ruggero uses his military expertise to create a vivid and unconventional setting for a murder mystery, crafting an intriguing quagmire of institutional corruption to challenge his everyman hero." —Library Journal