You are here
Back to top
The Adventure of the Peculiar Protocols: Adapted from the Journals of John H. Watson, M.D. (Paperback)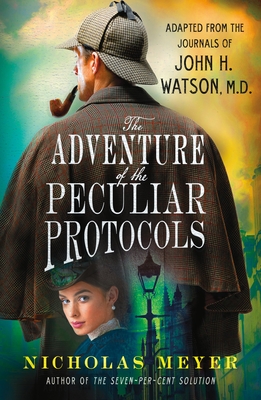 $16.99
Email or call for special order
Description
---
With the international bestseller The Seven-Per-Cent Solution, Nicholas Meyer brought to light a previously unpublished case of Sherlock Holmes, as recorded by Dr. John H. Watson. Now Meyer returns with a shocking discovery—an unknown case drawn from a recently unearthed Watson journal—in The Adventure of the Peculiar Protocols.

January 1905: Holmes and Watson are summoned by Holmes' brother Mycroft to undertake a clandestine investigation. An agent of the British Secret Service has been found floating in the Thames, carrying a manuscript smuggled into England at the cost of her life. The pages purport to be the minutes of a meeting of a secret group intent on nothing less than taking over the world.

Based on real events, the adventure takes the famed duo—in the company of a bewitching woman—aboard the Orient Express from Paris into the heart of Tsarist Russia, where Holmes and Watson attempt to trace the origins of this explosive document. On their heels are desperate men of unknown allegiance, determined to prevent them from achieving their task. And what they uncover is a conspiracy so vast as to challenge Sherlock Holmes as never before.
About the Author
---
NICHOLAS MEYER is the author three previous Sherlock Holmes novels, including The Seven-Per-Cent Solution, which was on the New York Times bestseller list for a year. He's a screenwriter and film director, responsible for The Day After, Time After Time, as well as Star Trek II: The Wrath of Khan, Star Trek IV: The Voyage Home, and Star Trek VI: The Undiscovered Country among many others. A native of New York City, he lives in Santa Monica, California.