You are here
Back to top
Something Wicked: A McKenzie Novel (Twin Cities P.I. Mac McKenzie Novels #19) (Hardcover)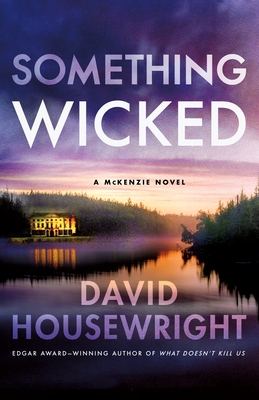 $26.99
Email or call for special order
Description
---
In David Housewright's next hardboiled mysterySomething Wicked, Rushmore McKenzie, who promised to retire after his last nearly-fatal case, gets talked into doing an old friend a favor involving a castle, a family fighting over an inheritance, and at least one mysterious death.

Rushmore McKenzie was a detective with the St. Paul, Minnesota PD until unlikely events made him first a millionaire and then a retiree. Since then, he's been an occasional unofficial private investigator - looking into things for friends and friends of friends - until his most recent case put him into a coma and nearly into a coffin. Now, at the insistence of his better half Nina Truhler, he is again retired.

That is, until a friend of Nina finds herself in dire straights and in desperate need of a favor. Jenness Crawford's grandmother owned the family castle - a nineteenth century castle that has been operating as a hotel and resort for over a hundred years. Since her grandmother's death, the heirs have been squabbling over what to do with it. Some want to keep it in the family and running as a hotel. Some want to sell it and reap the millions a developer will pay for it. And Jenness is convinced that someone - probably in the latter group - killed her grandmother. A conclusion with which the police do not agree. Now McKenzie finds himself back in action, trapped in a castle filled with feuding relatives with conflicting agendas, long serving retainers, and a possible murderer. And if McKenzie makes one wrong move, it could be lights out.
About the Author
---
DAVID HOUSEWRIGHT has won the Edgar Award and is the three-time winner of the Minnesota Book Award for his crime fiction, which includes the modern noir Twin Cities P.I. Mac McKenzie series (starting with A Hard Ticket Home). He is a past president of the Private Eye Writers of America (PWA). He lives in St. Paul, Minnesota.