You are here
Back to top
Facets of Death (Detective Kubu) (Paperback)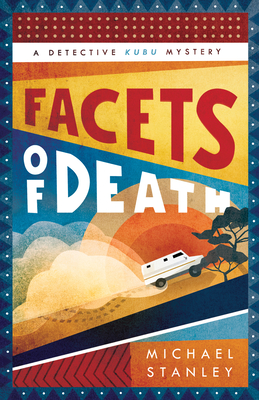 Description
---
Detective Kubu, renowned international detective, has faced off with death more times than he can count… But what was the case that established him as a force to be reckoned with? In Facets of Death, a prequel to the acclaimed Detective Kubu series, the fresh-faced cop gets ensnared in an international web of danger—can he get out before disaster strikes?
David Bengu has always stood out from the crowd. His personality and his physique match his nickname, Kubu—Setswana for "hippopotamus"—a seemingly docile creature, but one of the deadliest in Africa. His keen mind and famous persistence have seen him rise in the Botswana CID. But how did he get his start?
His resentful new colleagues are suspicious of a detective who has entered the CID straight from university, skipping the usual beat cop phase.
Mining diamonds is a lucrative business, but it soon proves itself deadly. Shortly after Kubu joins the CID, the richest diamond mine in the world is robbed of 100,000 carats of diamonds in transit. The robbery is well-executed and brutal. Police immediately suspect an inside job, but there is no evidence of who it could be.
When the robbers are killed execution-style in South Africa and the diamonds are still missing, the game changes, and suspicion focuses on a witch doctor and his son. Does Kubu have the skill and the integrity to engineer an international trap and catch those responsible, or will the biggest risk of his life end in disaster?
A riveting addition to Michael Stanley's award-winning books set in Botswana, Facets of Death proves Kubu worthy of his name…
About the Author
---
Michael Stanley is the writing team of Michael Sears and Stanley Trollip.
Both are retired professors who have worked in academia and business. Sears is a mathematician, specializing in geological remote sensing. Trollip is an educational psychologist, specializing in the application of computers to teaching and learning, and a pilot. They were both born in South Africa.
They have been on a number of flying safaris to Botswana and Zimbabwe, where it was always exciting to buzz a dirt airstrip to shoo the elephants off. They have had many adventures on these trips including tracking lions at night, fighting bush fires on the Savuti plains in northern Botswana, being charged by an elephant, and having their plane's door pop open over the Kalahari, scattering navigation maps over the desert. These trips have fed their love both for the bush, and for Botswana.
It was on one of these trips that the idea surfaced for a novel set in Botswana.
Praise For…
---
"Entertaining…Series followers will enjoy the backstory." — Publishers Weekly

"If you are like me and hadn't read this series before, Facets of Death is a perfect way to jump into the series." — Mystery Scene Magazine

" Every fan of mystery novels already should be reading and enjoying this series..." — Bookreporter

"Besides being an exciting police procedural, this book... should send readers unfamiliar with the series right to the bookstore." — Twin Cities Pioneer Press