You are here
Back to top
Death by Chocolate Frosted Doughnut (A Death by Chocolate Mystery #3) (Paperback)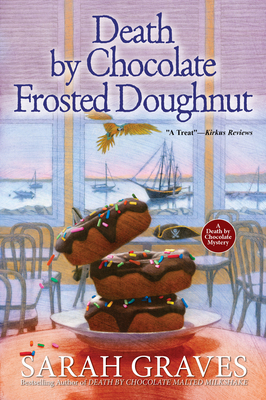 Description
---
The bestselling Sarah Graves continues the spin-off series from her popular Home Repair is Homicide series with the third Death by Chocolate Mystery! In the quirky town of Eastport, Maine, Jacobia "Jake" Tiptree and her best friend, candy chef Ellie White, are busy running The Chocolate Moose, their waterfront shop specializing in all things chocolate. But when a pirate festival blows into their small town and a well-known food writer and TV personality turns up dead, Jake and Ellie find themselves marooned in a new murder investigation.

Everything is shipshape at Jake and Ellie's new waterfront bakery, The Chocolate Moose, especially now that the annual Pirate Festival is dropping anchor in their quaint island village of Eastport, Maine. Jake and Ellie are ready for the bounty of tourists sure to flood their shop. But their plans quickly sink when the body of celebrity foodie, Henry Hadlyme, is discovered in the Moose's basement.

Jake and Ellie are horrified, but their shock turns to dismay when Jake is pegged for the murder. Now, to clear Jake's name and save the shop, Jake and Ellie must swashbuckle down and figure out who among Henry's numerous enemies scuttled him in the cellar. Was it a long-ago jilted sweetheart's vengeful relative? His long-suffering personal assistant? Or perhaps some bitter-as-dark-chocolate unknown enemy, now aboard the mysterious ship lurking in Eastport's harbor?

Alas, dead men tell no tales, so Jake and Ellie will have to get to the bottom of the case on their own and find the real killer before anyone else is forced to walk the plank...
About the Author
---
Sarah Graves is the USA Today bestselling author of the Death by Chocolate Mysteries, the Home Repair is Homicide Mystery Series, and the Lizzie Snow suspense novels. Much like Jake Tiptree, the sleuth who stars in her cozy mysteries, she lives in a 200-year-old house in Eastport, Maine. When she's not cooking or baking something delectable (or writing about it) she tends a huge garden or shovels snow, depending upon the season.
Praise For…
---
Praise for Death by Chocolate Frosted Doughnut

"A treat for aficionados of shopkeeper-sleuth cozies."
—Kirkus Reviews

Praise for Sarah Graves' previous mystery, Death by Chocolate Malted Milkshake
 
"Jacobia 'Jake' Tiptree, the star of Graves's Home Repair Is Homicide series . . . is back in this charming series launch. . . . The characters are appealing, and down east Maine is a delightful place to visit. Graves fans will enjoy catching up with old friends." 
—Publishers Weekly 
 
"Sympathetic characters, effective plot twists, a vividly described small-town Maine setting, and the baking frame add to this satisfying cozy that will appeal to fans of Joanne Fluke and Diane Mott Davidson (for the baking details) and Leslie Meier (for the Maine setting)." 
—Booklist

"It's especially nice to get to know all the members of Jake's large household as they plan together for the future, unaware of the peril that looms over Eastport in the form of the mysterious ship."  
—Criminal Element 
 
"As her handywoman heroine reinvents herself in chocolate, Graves adds enough physical danger to her comfy tale of small-town mayhem to move it into the . . . range of the cozy thriller. Gives new currency to the phrase 'baking up a storm.'" 
—Kirkus Reviews
 
"A welcome return to Eastport and the long familiar characters that continue to please, but this time with a recipe at the end that will please even more." 
—Maine Quoddy Times
 
"Returning fans will appreciate the character growth and development featured throughout the new book, and the opportunity to catch up with some fan-favorite minor characters."
—Maine News Observer
 
"The mystery is a good one . . . readers will be happy to see [Jake and Ellie's] new adventure . . . And yes, Ellie shares her grandmother's recipe for Chocolate Cherry Cheesecake. The cover art alone is enough to make you crave a big slice." 
—Kings River Life

"Graves pulls the story together at the end with an exciting scene that identifies the real culprit and brings that individual to justice."
—The New York Journal of Books