You are here
Back to top
No. 1 Ladies' Detective Agency Series - Volume 1: The No. 1 Ladies' Detective Agency, Tears of the Giraffe, Morality for Beautiful Girls (MP3 CD)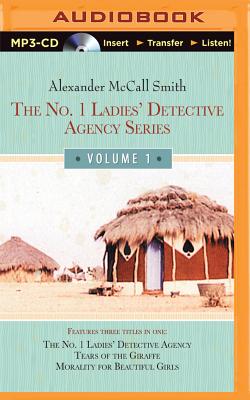 Description
---
The No. 1 Ladies' Detective Agency
Mma "Precious" Ramotswe sets up a detective agency in Botswana on the edge of the Kalahari Desert, making her the only female detective in the country. At first, cases are hard to come by. But eventually, troubled people come to Precious with a variety of concerns. Potentially philandering husbands, seemingly schizophrenic doctors, and a missing boy who may have been killed by witch doctors all compel Precious to roam about in her tiny van, searching for clues.
Tears of the Giraffe
The clever proprietor of the only detective agency in all of Botswana, Mma Ramotswe is now engaged to Mr. J.L.B. Matekoni, the kind owner of Tlokweng Road Speedy Motors. This new development provokes a hostile reaction from Mr. J.L.B. Matekoni's unscrupulous maid, who quickly begins plotting the disintegration of the engagement. Despite all this, duty calls, and Mma Ramotswe is asked to help find an American woman's son, who has been missing in Africa for ten years.
Morality for Beautiful Girls
Between intriguing new cases and troubling personal developments, Precious' hands are full. She personally investigates the claim of an important government worker, who suspects his brother is being poisoned. Meanwhile, assistant detective Mma Makutsi explores the moral fiber of four beauty pageant contestants. On top of all this, Precious' reliable fianc finally shows a crack in his armor. Life is more difficult than ever at The No. 1 Ladies' Detective Agency, but it's nothing a little clear thinking and a few mugs of bush tea can't handle.