You are here
Back to top
The Streel: A Deadwood Mystery (Hardcover)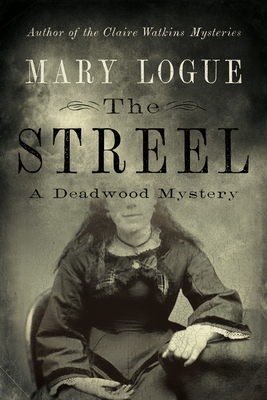 Description
---
Women Writing the West WILLA Award Finalist

From "the reigning royalty of Minnesota murder mysteries" (The Rake) comes a striking new heroine: a young Irish immigrant caught up in a deadly plot in nineteenth-century Deadwood

When I was fifteen and my brother Seamus sixteen, we attended our own wake. Our family was in mourning, forced to send us off to America.
The year is 1880, and of all the places Brigid Reardon and her brother might have dreamed of when escaping Ireland's potato famine by moving to America, Deadwood, South Dakota, was not one of them. But Deadwood, in the grip of gold fever, is where Seamus lands and where Brigid joins him after eluding the unwanted attentions of the son of her rich employer in St. Paul—or so she hopes. But the morning after her arrival, a grisly tragedy occurs; Seamus, suspected of the crime, flees, and Brigid is left to clear his name and to manage his mining claim, which suddenly looks more valuable and complicated than he and his partners supposed.
Mary Logue, author of the popular Claire Watkins mysteries, brings her signature brio and nerve to this story of a young Irish woman turned reluctant sleuth as she tries to make her way in a strange and often dangerous new world. From the famine-stricken city of Galway to the bustling New York harbor, to the mansions of Summit Avenue in St. Paul, and finally to the raucous hustle of boomtown Deadwood, Logue's new thriller conjures the romance and the perils, and the tricky everyday realities, of a young immigrant surviving by her wits and grace in nineteenth-century America.
About the Author
---
Mary Logue has published thirteen mysteries, nine in the Claire Watkins series, as well as poetry and young adult nonfiction and fiction, including the novel Dancing with an Alien (an ALA Best Book for Young Adults and a New York Public Library Book for the Teen Age) and the best-selling Sleep like a Tiger, which won a Caldecott and a Zolotow honor award. She has taught at Hamline University in St. Paul and lives on both sides of the Mississippi River, in Minnesota and Wisconsin, with writer Pete Hautman.
Praise For…
---
"With a poet's eye, Mary Logue evokes the harsh world of frontier Deadwood, South Dakota. The Streel relates the journey of a scrappy young Irish woman as she's forced from her homeland to the American midwest. Tersely and beautifully, Logue recreates the muddy streets of Deadwood, the haphazard keeping of the peace, and the rugged hearts and souls of those seeking their fortune in the Black Hills gold rush of the late 1800s. The Streel is both a taut mystery and a cautionary tale of the evils of greed. I loved the redoubtable heroine, Brigid Reardon, and I loved every stunning line of this fine story."—William Kent Krueger, author of This Tender Land
"Mary Logue is, hands down, one of my favorite writers. The Streel shows her at the top of her game. The novel is a rich combination of elements—part history, part gripping mystery, and part immigrant saga. Highly recommended!"—Ellen Hart, author of Twisted at the Root
"Mary Logue blends family lore and the history of the Irish diaspora in The Streel, a lively tale of teenage immigrants in 1880s America. Brigid finds work as a servant in St. Paul, then joins her brother and his friends in the gold fields of South Dakota, where she solves a murder and strikes it rich. Our great-grandmothers had the Right Stuff."—Elizabeth Gunn, author of Burning Meredith
"Introduces a gritty, charming, clever protagonist whose musings provide a perfect period feel."—Kirkus Reviews
"A well-constructed plot, lilting prose, and a heroine who's determined to escape constricting female roles make this an exceptional regional historical."—Publishers Weekly (starred review)
"Her background as a poet... lends her books a concise crispness not always to be found in today's overly long novels. While this book clocks in at a little over 200 pages, it's packed with character and action from the first page to the last."—Mystery Scene Magazine
"The author of the Deputy Sheriff Claire Watkins series is off on a winning new tangent with Brigid Reardon." —The Washington Post
"Logue does a wonderful job of putting the reader into what is barely a town at the end of the civilized world... From Galway to New York to a grand house in St. Paul that could be on Summit Avenue, and then to Deadwood, Brigid learns she can depend only on herself as she builds a life in the new world."—Pioneer Press
"In young Brigid Reardon, she has created a unique detective with a winning story. Readers will not be disappointed."—The Emporia Gazette
"[Logue] brings her signature brio and nerve to this new thriller, following a young immigrant caught in a deadly plot twist, surviving by her wits and grave in 19th century America."—Northern Wilds