You are here
Back to top
Zoo Station (John Russell World War II Spy Thriller #1) (Paperback)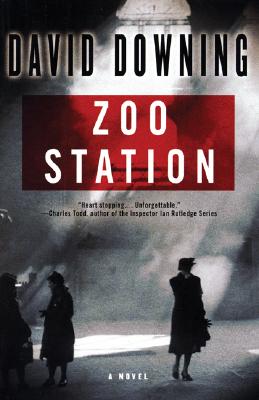 Description
---
"The clever denouement will have readers clamoring for a sequel."—BookPage

"Zoo Station is a beautifully crafted and compelling thriller with a heart-stopping ending as John Russell learns the personal faces of good and evil. An unforgettable read."—Charles Todd, author of the Inspector Ian Rutledge Series

"A finely drawn portrait of the capital of a nation marching in step toward disaster."—St. Louis Post-Dispatch

"[A] smooth, scary wartime thriller drenched in period atmosphere."—Kirkus Reviews

"[A] suspenseful tale of an ordinary man living in a dangerous place during a dangerous time who finds within himself the strength to do heroic acts."—Booklist

"If you like your tales spiced with morally ambiguous characters right out of Graham Greene, this is a train you need to be aboard. . . . A marvelous return to cerebral espionage."—January Magazine

By 1939, Anglo-American journalist John Russell has spent fifteen years in Berlin, where his German-born son lives. He writes human-interest pieces for British and American papers, avoiding the investigative journalism that could get him deported. But as war approaches, he faces the prospect of having to leave his son and his longtime girlfriend.

Then, an acquaintance from his communist days approaches him to do some work for the Soviets. Russell is reluctant but ultimately unable to resist. He becomes involved in other dangerous activities, helping a Jewish family and an idealistic American reporter. When the British and the Nazis notice his involvement with the Soviets, Russell is dragged into the world of warring intelligence services.
About the Author
---
David Downing grew up in suburban London. He is the author of numerous works of fiction and nonfiction for both adults and children, including four novels featuring Anglo-American journalist John Russell and the nonfiction work "Sealing Their Fate: The Twenty-Two Days That Decided World War II." He lives with his wife in Guildford, England.
Praise For…
---
Praise for Zoo Station

"Zoo Station is a beautifully crafted and compelling thriller with a heart-stopping ending as John Russell learns the personal faces of good and evil. An unforgettable read."
—Charles Todd, author of the Inspector Ian Rutledge series 

"Zoo Station (book one) hooked me on the first page."
—Huffington Post UK

Praise for David Downing

"Epic in scope, Mr. Downing's "Station" cycle creates a fictional universe rich with a historian's expertise but rendered with literary style and heart."
—The Wall Street Journal

"Full of striking inventions."
—Kingsley Amis, author of Lucky Jim
 
"One of the most intelligent and persuasive realizations of Germany immediately before the war."
—Wall Street Journal
 
"John Russell has always been in the thick of things in David Downing's powerful historical novels set largely in Berlin....Downing provides no platform for debate in this unsentimental novel, leaving his hero to ponder the ethics of his pragmatic choices while surveying the ground level horrors to be seen in Berlin."
—The New York Times Book Review
 
"Downing distinguishes himself by eschewing the easy ways out. He doesn't shy away from portraying the cold brutality of the Third Reich, and his characters are far from stereotypes—they're flawed, confused and real."
—NPR
 
"An extraordinary evocation of Nazi Germany on the eve of war, the smell of cruelty seeping through the clean modern surface."
—C. J. Sansom, author of Revelation
 
"A beautifully crafted and compelling thriller with a heart-stopping ending as John Russell learns the personal faces of good and evil. An unforgettable read."
—Charles Todd, author of the Inspector Ian Rutledge Series
 
"Downing is brilliant at weaving history and fiction, and this plot, with its twists and turns—all under the terrible bombardment of Berlin and the Third Reich's death throes—is as suspenseful as they come. The end, with another twist, is equally clever and unexpected."
—Toronto Globe and Mail
 
"In the elite company of literary spy masters Alan Furst and Philip Kerr."
—Washington Post
                                                                                                                                             
"The echo of the Allied bombings and the crash of the boots of the invading Russians permeate the pages in which David Downing vividly does justice to the drama....The book is a reminder of what happened and those who allowed it to happen....The book lives up to the others in the Russell series, serving as yet one more reminder of a world too many have entirely forgotten."
—Washington Times
 
"Excellent and evocative....Downing's strength is his fleshing out of the tense and often dangerous nature of everyday life in a totalitarian state."
—The Times (London)
 
"The author combines his erudition with an excellent political imagination. He writes well, clearly and has a nice wit."
—Sunday Times (UK)
 
"Compulsive reading."
—Sunday Telegraph (UK)

"An atmospheric tale."
—St. Petersburg Times

"An elegant rapid-fire spy story."
—The Virginian-Pilot 

"An atmospheric thriller...furious pacing."
—Booklist