You are here
Back to top
Turn to Stone: An Ellie Stone Mystery (Paperback)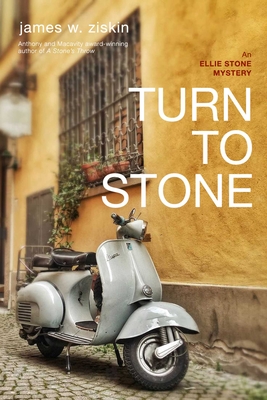 $15.95
Email or call for special order
Description
---
This 1960s-era locked-room mystery takes Ellie Stone to Florence, Italy--a seemingly idyllic setting, which in this case has sinister undertones.

Florence, Italy, August 1963. In Italy to accept a posthumous award for her late father's academic work, "girl reporter" Ellie Stone is invited to spend a weekend outside Florence with some of the scholars attending the symposium. A suspected rubella outbreak leaves the ten friends quarantined in the bucolic setting with little to do but tell stories to entertain themselves. Deciding to make the best of their confinement, the men and women spin tales, gorge themselves on fine Tuscan food and wine, and enjoy the delicious fruit of transient love. But the summer bacchanalia takes a menacing turn when the man who organized the symposium is fished out of the Arno. "Morto." As long-buried secrets rise to the surface, Ellie must figure out if one or more of her newfound friends is capable of murder.
About the Author
---
James W. Ziskin is the author of the Ellie Stone mysteries. Winner of the Anthony award for Best Paperback Original and the Macavity Award for Best Historical Novel (Sue Feder Memorial), he has also been a finalist for the Edgar®, Barry, and Lefty Awards.
Praise For…
---
This delightful new entry in the Ellie Stone series is a lively, lovely mix of Agatha Christie, Donna Leon, and the Decameron. Its charm can be found equally in the story's narrator Ellie Stone, in the beautifully evoked Italian landscape, and in the complexities of the mystery itself. For anyone not familiar with this excellent series, it's high time you got to know James Ziskin's work. Turn to Stone is a great place to begin.
— William Kent Krueger, author of 'This Tender Land'

Our favorite 'girl reporter' takes us to the beautiful country, only to meet up with la morte. A new Ellie Stone adventure is truly a reason to raise a glass.
— Lori Rader-Day, Edgar Award-nominated author of 'Under a Dark Sky'

A mystery that puts an inventive twist on Boccaccio's Decameron, Turn to Stone takes the reader on a richly imagined and entertaining journey to Florence and the Tuscan countryside in 1963. And the engaging, indomitable Ellie Stone, who holds her liquor but never her tongue, is the perfect traveling companion.
— Lou Berney, Edgar Award-winning author of 'November Road'

What's better than a new Ellie Stone mystery? Ellie Stone in Florence, where wine and whisky flow as freely as does the razor-sharp wit of this amateur sleuth, a sophisticated modern young woman of the early 1960s. Ellie probes the mystery behind the death of an Italian professor, laying bare the secrets of an eclectic circle of academics. Sharp, entertaining, and vividly enjoyable.
— James R. Benn, author of 'When Hell Struck Twelve'

Quarantined in an Italian palazzo with Ellie Stone is pure bliss. James Ziskin's Turn to Stone is another terrific entry in an outstanding mystery series.
— Hallie Ephron, New York Times bestselling author of 'Careful What You Wish For'

Ellie Stone is my new favorite mystery heroine. In Turn to Stone, it's 1963 and Ziskin takes
smart, resourceful Ellie out of her native New York with a visit to Italy. With a plot as twisty as a
Florentine alley, and a clever nod to Boccaccio's Decameron, Ziskin once again treats us to
delightful language and a spot-on portrait of an independent young woman determined to find
her place in the professional world. Readers will wish for a time machine and a plane ticket so
they could go along for the ride!
— Deborah Crombie, New York Times bestselling author of 'A Bitter Feast'

Packed with nifty clues and plenty of Ellie Stone's trademark derring-do, there's a great deal of pleasure to be had in Ziskin's deliciously rich trip to Italy. But the real joy—besides the tight puzzle plot—is the setting of the story in its time; a pitch-perfect depiction of a moment, with shadows of the past and glimpses of the future. What a treat!
— Catriona McPherson, multi-award-winning author of 'A Step So Grave'

James Ziskin thrills again in Turn to Stone as reporter and photographer Ellie Stone brings her considerable investigative skills to bear on the mysterious death of a professor in 1963 Florence. In what ends up to be a classic locked-room mystery, Ellie doesn't let period attitudes about women prevent her from digging up stories from Italy's fascist past that help solve the current mystery. With well-drawn characters and a richly described setting, Ziskin brings Italy to life as the backdrop to this compelling story. A must-read!
— Edith Maxwell, author of the Agatha-nominated Quaker Midwife Mysteries

The lush settings and mouthwatering food will keep readers happy, if a little fidgety.
— Booklist

Italy's fascist period is presented in a multifaceted way that avoids assumptions about people's motives. Turn to Stone is a thoughtful mystery that questions whether forgiveness is always possible.
— Foreword Reviews