You are here
Back to top
The Sleeping Nymph (A Teresa Battaglia Novel #2) (Hardcover)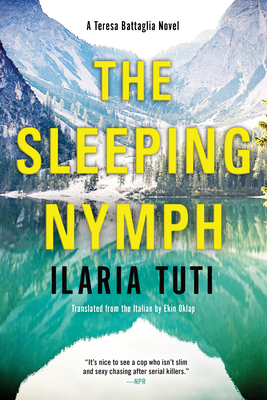 $27.95
Email or call for special order
Description
---
A 2021 Sue Grafton Memorial Award Nominee

In the highly anticipated follow-up to Flowers Over the Inferno, Superintendent Teresa Battaglia, expert criminal profiler with four decades of experience on the Italian police force, returns for a chilling cold case.

A decades-old murder investigation has landed on Superintendent Teresa Battaglia's desk. DNA analysis has revealed that a painting from the final days of World War II contains matter from a human heart. Teresa is able to trace the evidence to Val Resia, one of Italy's most isolated, untouched regions.

When Teresa's investigation hits too close to the truth, a fresh human heart is hung at the valley's entrance, a warning not to cross its threshold. As she hunts a ruthless killer, Teresa must face down her own rapidly deteriorating physical and cognitive abilities, as well as someone she hoped never to see again—a man who has just become her supervisor.
About the Author
---
Ilaria Tuti lives in Gemona del Friuli, in the province of Udine. She has a degree in economics, has always had a passion for painting, and freelances for a small independent publisher in her spare time. She won the Gran Giallo Città di Cattolica literary prize for her short story "The Pagan Child." Flowers over the Inferno was her debut novel.


Ekin Oklap was born in Turkey, and grew up in Italy. She translates from Turkish and Italian. She currently lives in London, where she works as a literary agent. As a translator, she was shortlisted for the Man Booker International Prize.
Praise For…
---
A 2021 Sue Grafton Memorial Award Nominee

Praise for The Sleeping Nymph

"Unlike so many female cops (especially on TV), Teresa is not svelte, soignée or young; she is overweight, over 60 and prone to unbuttoned cursing. And she has a secret she is hiding from colleagues: the onset of Alzheimer's. A canvas by a second world war partisan is found to have been painted with the blood from a human heart in a mystery yoking in the horrors of the Nazi era, shamanistic rituals and more contemporary murder."  
—Financial Times

"The setting in the valley is remarkably drawn and explored, becoming a very necessary character in its own right. Further, the flashbacks to the end of the War, slowly leading up to the death of the victim, add a solid foundation to the plot . . . Well worth reading for the examination of the deeper questions it raises. Does evil exist? Is it hereditary? Thought-provoking ideas to ponder while reading this novel. But the answers can never be as straightforward as the questions."
—Deadly Pleasures

"A great sequel in this Italian procedural trilogy . . . If you want a mystery to sink into, enjoy procedurals and historical mysteries, and like watching your characters evolve over a series, don't miss this one." 
—Book Riot

"Tuti's outstanding sequel to 2019's Flowers over the Inferno plunges Supt. Teresa Battaglia into a cold case reaching back more than seven decades . . . An intense plot, alluring secondary characters, and the contentious but endearing relationship between Teresa and Massimo make for engrossing reading." 
—Publishers Weekly, Starred Review

"In this follow-up to Flowers over the Inferno, steel-spined Italian police superintendent Teresa Battaglia faces down a cunning killer, unravels a 70-year-old cold case, and battles an enemy from her past, all while guarding a career-killing secret: she has been diagnosed with early-onset dementia . . . The case leads to possibly psychopathic partisans, goddess cults, and twisted family history—all absolutely absorbing, as is the series-propelling exploration of Battaglia and Marino's relationship." 
—Booklist, Starred Review

"This engrossing mystery blends psychological tension with exceptional detective work and features flawed yet appealing characters whose dogged pursuit of the murderer keeps them from focusing too closely on their personal struggles. All this, combined with Oklap's fluid translation, make this a solid mystery pick for fans of Jussi Adler-Olsen and Elizabeth George." 
—Library Journal, Starred Review

"The creepiest painting ever encountered in fiction or real life sends a beleaguered Italian police officer searching for the killer in a 70-year-old case . . . A sprawling, ambitious thriller for readers with a taste for florid invention and broad strokes of the supernatural." 
—Kirkus Reviews

"One of crime fiction's most captivating detectives . . . these hard-hitting stories harness the wild beauties of this majestic region as the backdrop for her ageing detective whose tough-nut exterior, secret battle with early dementia, and a not-so-secret soft spot for the children she never had, make her an extraordinary and unique protagonist."
—Burnley Express

"Ilaria Tuti has achieved the impossible. Her latest Teresa Battaglia mystery, The Sleeping Nymph, is even more engrossing, intriguing, and bizarre than her excellent debut . . . A beautifully written tale of familial horror that will sometimes chill you to the bones." 
—Gumshoe Review

Praise for Flowers Over the Inferno
 
"[Tuti] introduces a sympathetic heroine in Battaglia, whose gruffness masks a fear she may be losing her unique abilities." 
—The Wall Street Journal

"[Teresa Battaglia] is out of shape, diabetic and busy fighting the early stages of Alzheimer's disease—on top of handling a complex case . . . It's nice to see a cop who isn't slim and sexy chasing after serial killers." 
—NPR

"A stunning debut . . . With a heroine unlike any other and a beautifully crafted sense of place, Tuti's gorgeous prose paints a compelling portrait of a small Alpine town's secrets and the woman tasked with uncovering them. I loved this book."
—Karen Dionne, internationally bestselling author of The Marsh King's Daughter

"Teresa Battaglia is one of the most interesting detectives to emerge in recent years; flawed but full of heart, sarcastic yet still commanding loyalty from her team. Flowers over the Inferno is an astonishing debut."
—M. W. Craven, author of The Puppet Show

"Superintendent Teresa Battaglia, a criminal profile expert, is in her sixties, overweight, lonely, diabetic, full of the ailments of aging—and delightful. It's rare that such a character enters crime fiction for the first time, and with such gripping impact."
—The Times

"Creepy and evocative."
—The Guardian

"Exhilarating . . . Teresa, who must deal with casual and constant sexism in her position of authority, is an unforgettable character readers will want to see a lot more of."
—Publishers Weekly, Starred Review