You are here
Back to top
The Secret Hours (Hardcover)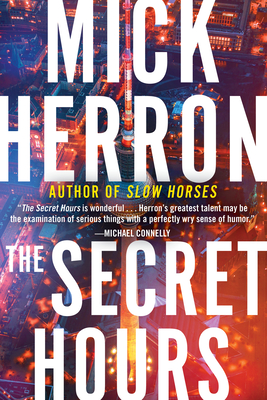 $27.95

Usually Ships in 1-5 Days
September 2023 Indie Next List
---
"As the Monochrome is disbanded, two members are slipped info about a mission in Cold War Berlin with serious consequences. Filled with hairpin plot twists, cutting dialogue, and dark humor, this spy novel is my favorite book of 2023 so far."
— Timothy Benz, Joseph-Beth Booksellers, Cincinnati, OH
Description
---
A gripping standalone spy thriller from the #1 Sunday Times bestselling author of Slow Horses, with a riveting reveal about a disastrous MI5 mission in Cold War Berlin—an absolute must-read for Slough House fans.

New from the author of Slow Horses, now an Apple Original series from Apple TV+, starring Gary Oldman and Kristin Scott Thomas.

Two years ago, a hostile Prime Minister launched the Monochrome inquiry, investigating "historical over-reaching" by the British Secret Service. Monochrome's mission was to ferret out any hint of misconduct by any MI5 officer—and allowed Griselda Fleet and Malcolm Kyle, the two civil servants seconded to the project, unfettered access to any and all confidential information in the Service archives in order to do so.

But MI5's formidable First Desk did not become Britain's top spy by accident, and she has successfully thwarted the inquiry at every turn. Now the administration that created Monochrome has been ousted, the investigation is a total bust—and Griselda and Malcolm are stuck watching as their career prospects are washed away by the pounding London rain.

Until the eve of Monochrome's shuttering, when an MI5 case file appears without explanation. It is the buried history of a classified operation in 1994 Berlin—an operation that ended in tragedy and scandal, whose cover-up has rewritten thirty years of Service history.

The Secret Hours is a dazzling entry point into Mick Herron's body of work, a standalone spy thriller that is at once unnerving, poignant, and laugh-out-loud funny. It is also the breathtaking secret history that Slough House fans have been waiting for.
About the Author
---
Mick Herron is a British novelist and short story writer who was born in Newcastle and studied English at Oxford. He is the author of the Slough House espionage series, four Oxford mysteries, and three standalone novels. His work has won the CWA Gold Dagger for Best Crime Novel, the Steel Dagger for Best Thriller, the Theakston's Novel of the Year Award, the Palle Rosenkrantz Prize, the Ellery Queen Readers Award and the USC Libraries Scripter Award, and been nominated for the Macavity, Barry and Shamus Awards. He currently lives in Oxford and writes full-time.
Praise For…
---
Praise for The Secret Hours

People Magazine's Best Books of Fall 2023
A Washington Post Noteworthy Book for September
An Amazon Best of the Month - Mystery/Thriller
An ABA Indie Next Pick for September 2023
A CrimeReads Top 10 Book for September
A Powell's Pick of the Month
★★★★ Starred Reviews from Publishers Weekly, BookPage, Library Journal and Booklist

"An intricate espionage thriller from Herron, whose Slough House series is the basis for Apple TV+'s Slow Horses. Bonus: This terrific standalone offers an enticing slice of Slough House's origin story."
—People Magazine

"This page-turning stand-alone novel is a perfect entry point into the eccentric world of civil servants and spies that Herron's Slough House series so wittily portrays."
—The Washington Post

"Herron keeps up his gravity-defying balancing act: belly-laugh spy spoof on one side, elegiac state-of-the-nation satire on the other, with a thin, taut line of polished prose between."
—Financial Times

"Herron is meticulous in his depictions of tradecraft and the dark corners where spooks ply their trade, but he is an unambiguous, 21st-century cynic . . . The Secret Hours is described as a stand-alone, familiar Slough House characters figure in the story under code names, and it contains revelations about their pasts that fans of those books and the Slow Horses TV series won't want to miss."
—Air Mail

"The Secret Hours has all of Herron's tight plotting and characteristically low-key humour. It's an excellent standalone, but fans of his Slough House books would do well to pick it up too."
―The Guardian

"Great Britain has a long, rich history of how-it-really-works espionage fiction, and Mick Herron—stealthy as a secret agent—has written himself to the very top of the list. If you haven't already been recruited, start with The Secret Hours—all Herron's trademark strengths are here: tension, intrigue, observation, humor, absurdity . . . and pitch-perfect prose."
—Lee Child

"The Secret Hours is wonderful. It's Mick Herron at his best, taking us into a dark world where there is high action, a spinning moral compass, and hidden motives on every page. And, oh, yes, the fun—Herron's greatest talent may be the examination of serious things with a perfectly wry sense of humor."
—Michael Connelly

"I doubt I'll read a more enjoyable novel all year. The Secret Hours has it all: thrilling action scenes, crackling dialogue, characters to infuriate and beguile, and a neatly intricate plot. And through it all cuts Herron's acerbic wit, its effect heightened by the glimpses he allows us, from time to time, from his world to ours."
—Paula Hawkins, author of The Girl on the Train

"A deft knockout of a story, with an arc of history, written with humor and style. Mick Herron is one of the best writers of spy fiction working today."
—Martin Cruz Smith

"There's wit and suspense on almost every page of The Secret Hours, where the good guys are bad, the bad guys are worse and the reader is in luck."
—The Seattle Times

"Jam-packed with the kind of acidic insults fans of 'Slow Horses' love."
—Minneapolis Star-Tribune

"Superb . . . The expertly crafted tale probes political machinations, bureaucratic holdups, and the temptations of revenge. Come for the banter and Briticisms; stay for the conviction that it's never too late to right past wrongs."
—Christian Science Monitor

"Simply a masterful new book from today's premier espionage author."
—Clea Simon, The Arts Fuse

"Because none of the Slough House characters are mentioned by name, The Secret Hours is not only a gripping standalone for the uninitiated, but also an ideal introduction to the pleasures of the series."
—Everything Zoomer

"[Herron] proves himself a modern rival to Ian Fleming and John Le Carré... This satire-flecked thriller should establish Herron as an institution."
―Sunday Times (UK)

"[A] terrific new novel . . . Herron's traditional tradecraft is on show―the Blackadderesque relish of words, the spy-like manipulation of the reader, the understanding of how the English fend off the serious with humour."
―The Times (UK)

"Herron is a subtle writer who offers a great deal, including psychological insights that stay with you long after the clever plot is complete."
―Literary Review (UK)

"Herron brings a le Carré setup (spies investigating spies) to this exemplary thriller that's equal parts acerbic and illuminating."
—CrimeReads

"Amazing and so, so funny."
—WAMC The Roundtable

"It's not all Aston Martin sports cars and martinis ('shaken, not stirred') in Herron's spy world... Billed as a standalone, this smartly written, funny, and complex thriller is a good introduction for newbies, but fans of Herron's 'Slough House' books will recognize a few crossover characters."
—Wilda Williams, First Clue Reviews

"Herron continues his winning streak... This novel, filled with acid wit, political pokes, and a veritable basketful of 'Slough House' Easter eggs, will thrill longtime Herron fans and delight newcomers and aficionados of cracking-good spy fiction."
—Library Journal, Starred Review

"Hailed as a twenty-first-century Le Carré, Herron is a master at portraying the dark, disturbing world of espionage... Gripping, cryptic, tragic, and suspenseful, this must-read will keep readers riveted from first page to last."
—Booklist, Starred Review

"Espionage fans of all stripes will devour this exemplary outing."
—Publishers Weekly, Starred Review

"Sly and suspenseful, The Secret Hours is both a marvelous standalone novel and a stunning companion to Herron's Slough House series."
—BookPage, Starred Review

"Readers who've joined Herron in following the Slow Horses in a series of rollicking, scary novels won't be surprised to learn that everyone here looks down their noses at everyone else, that everyone has a price, and that conflicts within MI5 are much more likely to turn lethal than conflicts outside, against England's nominal enemies."
—Kirkus Reviews

Praise for Mick Herron

"The best in a generation, by some estimations, and irrefutably the funniest."
—Jill Lepore, The New Yorker

"Intricate plotting, full of twists . . . Herron can certainly write a real spy story, with all the misdirection and sleight of hand that requires. But it's the surly Slough House mood, the eccentric characters, and Herron's very black, very dry sense of humor that made me read one after the other without a break."
—Laura Miller, Slate.com

"Out of a wickedly imagined version of MI5, [Herron] has spun works of diabolical plotting and high-spirited cynicism, their pages filled with sardonic wit, their characters approaching the surreal."
—The Wall Street Journal

"The sharpest spy fiction since John le Carré."
—NPR's Fresh Air

"Mick Herron never tells a suspense story in the expected way . . . In Herron's book, there is no hiding under the desk."
—The New York Times Book Review

"Stylish and engaging."
—The Washington Post

"[Herron] really is funny and his cynicism is belied, here and there, by flashes of the mingled tenderness and anger that seem to define Britain's post-Brexit self-reflections."
—USA Today