You are here
Back to top
Rip the Angels from Heaven: A Novel (Paperback)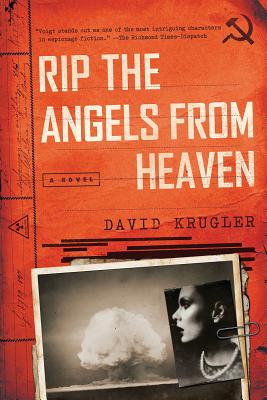 Description
---
Intelligence officer Ellis Voigt fights to prevent the Soviets from infiltrating the Manhattan Project while running from enemies on both sides, in the thrilling sequel to The Dead Don't Bleed.
Washington, DC, 1945.
Lieutenant Ellis Voigt of the Office of Naval Intelligence is desperate to keep the secrets that threaten his life. The war overseas is going well for America, but Voigt can't escape a web of double-agents and undercover spies who follow his every move.
The FBI suspects that he is the communist who murdered a Naval officer in a Washington back alley. The Soviets believe he's holding back information from their contacts, and they're willing to use any means necessary to extract it.
When Voigt is sent to New Mexico on a secret mission to identify a Soviet spy, he is tailed by both the FBI and the Russians, and is running out of people he can trust. As the team at Los Alamos prepares to test an atomic bomb in the desert, Voigt faces the dilemma he'd been trying to avoid: he can stop the Soviets from getting the bomb or he can save himself—but he might not be able to do both.
About the Author
---
David Krugler is a historian and novelist. He is a professor of history at the University of Wisconsin-Platteville, where he has taught since completing his PhD at the University of Illinois at Urbana-Champaign. His first novel, The Dead Don't Bleed, is also available from Pegasus Crime.
Praise For…
---
Krugler is terrific at period details and atmosphere, and makes a complicated plot tick — and go off.

It's 1945 in Washington, D.C.; the Nazis have surrendered, and every federal office has a betting pool for the day of Japanese capitulation. The city is awash with spooked spooks. Krugler is on the mark in sketching wartime Washington and the look and feel of the Manhattan Project.

The snappy, authentic-sounding 1940s dialogue, an appealing American everyman, and a cast of characters of which none seem trustworthy give Rip the Angels from Heaven a breakneck pace that never lets up. It doesn't hurt that the plot has a ripped-from-the-headlines effect; there's a thin line between fact and fiction, and David Krugler straddles it masterfully.


A fully plausible, frightening, fast-paced thriller. Addictive and affecting, Rip the Angels from Heaven shatters the nerves, engages the mind, and satisfies the heart.


Set in 1945, Krugler's superior second thriller featuring Lt. Ellis Voigt of the Office of Naval Intelligence finds Voigt the target of NKVD thugs seeking the truth about the fate of a Russian who used a clipping service as a cover for a D.C. spy ring. Krugler's further exploration of his lead's moral ambiguity enhances a captivating story line that will appeal to fans of Joseph Kanon.

A hard-boiled delight, from its chain-smoking hero to its wartime lingo. Krugler, a professor of history, has created a rich, sultry world of bureaucratic crime. His protagonist is tough and canny, with a criminal streak that makes his character irresistible.  Krugler's latest novel has a five o'clock shadow and a gimlet eye. A finely written historical thriller that pits spy against spy.