You are here
Back to top
The Dead Don't Bleed: A Novel (Ellis Voigt Thrillers #1) (Hardcover)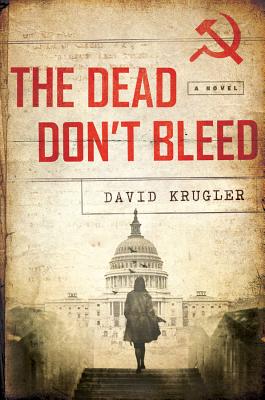 Description
---
In a gripping World War II mystery set in Washington, D.C., a young naval intelligence officer goes undercover to solve a murder and prevent the Soviets from stealing the secrets of America's atomic bomb project.
Washington D.C., 1945. Victory in the war looms, but a new fear transfixes the wartime capital. Fear of communist spies and the atomic secrets they covet. When the corpse of a Navy Intelligence officer is found on a cobblestone back alley, Lt. Voigt is called in to investigate. It's his first murder, but in the plot that he quickly begins unraveling, it won't be his last. Pursuing crosses and double-crosses, Voigt goes undercover and the fragments he discovers (a defecting German physicist, a top secret lab in New Mexico, and Uranium-235) suggest something far larger than the usual spy v. spy shenanigans. Soon enough he's in a race to identify the killer, to keep the bomb away from the Russians—and to keep ahead of his own secrets.
About the Author
---
David Krugler is a historian and novelist. He is a professor of history at the University of Wisconsin-Platteville, where he has taught since completing his PhD at the University of Illinois at Urbana-Champaign. His first novel, The Dead Don't Bleed, is also available from Pegasus Crime.
Praise For…
---
Krugler's portrait of wartime Washington, particularly the rivalries within ONI and the enmity between the FBI and ONI, is thoroughly absorbing.

Krugler brings expertise and authenticity to his first thriller, as well as a penetrating portrait of wartime Washington. And Voigt – a man with secrets of his own – stands out as one of the most intriguing characters in espionage fiction. Expect the unexpected in this thumping good read.

History professor Krugler makes his triumphant fiction debut.

A good old-fashioned spy novel. The action is fast paced and the mystery is gorgeously wrought and splendidly opaque. Read The Dead Don't Bleed for a thrill-packed ride with a truly stunning ending.

Krugler does an excellent job of evoking a Washington, DC mired in early Cold War paranoia. He paints a picture of a man with conflicting loyalties at war with himself. With an unexpected twist at the end, The Dead Don't Bleed is a satisfying thriller I can easily imagine on the big screen.