You are here
Back to top
The Guilty Dead: A Monkeewrench Novel (Hardcover)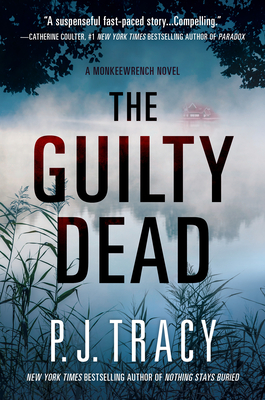 $26.99

Usually Ships in 1-5 Days
Description
---
New York Times bestselling author

Dead men tell no tales—but their pasts can't keep a secret—in this "suspenseful, fast-paced" Monkeewrench crime thriller (Catherine Coulter, author of the FBI Thrillers)
 
Gregory Norwood is Minnesota's most beloved philanthropist, and the story of his son's overdose was splashed across the front page of all the papers. When a photojournalist sets out to get a candid shot of the highly successful businessman on the one year anniversary of his son's death, he's shocked to find Norwood dead with a smoking gun in his hand. The city is devastated, and Minneapolis detectives Leo Magozzi and Gino Rolseth are called in to handle the delicate case. It should be open and shut, but something is not right. Norwood's death is no suicide.
 
With no suspects and an increasing tangle of digital evidence that confounds the Minneapolis Police Department's most seasoned cops, Magozzi calls on Grace MacBride, Monkeewrench Software's founder and chief computer genius and the soon to be mother of their child together. She and her motley crew of partners begin to unravel connections between Norwood's death and an even larger plot. Norwood wasn't the first, won't be the last, and by the end, may be just one of many to die. The breakneck, high stakes race to find his killer and save the lives of hundreds make P. J. Tracy's The Guilty Dead her most outstanding novel yet.
About the Author
---
P. J. Tracy was the pseudonym of mother-daughter writing team P. J. and Traci Lambrecht. Traci spent most of her childhood riding and showing horses. She graduated with a Russian Studies major from St. Olaf College in Northfield, Minnesota, where she also studied voice. Her aspirations of becoming a spy were dashed when the Cold War ended, so she began writing to finance her annoying habits of travel and singing in rock bands. Much to her mother's relief, she finally realized that the written word was her true calling. They had a long, prolific career together in multiple genres before P. J.'s passing in December 2016. Traci continues to write.
Praise For…
---
Praise for The Guilty Dead:
"Tracy combines the best qualities of a fast-paced thriller with an intricately plotted police procedural in this intense sequel to Nothing Stays Buried."
—Library Journal starred review, Pick of the Month

"Another winner."
—Booklist

"The book's chief pleasure lies in watching the members of MacBride's oddball crew, including Harley Davidson and Roadrunner, match wits and skills with the wise-cracking detectives."
—Publishers Weekly

"We've missed those smack-talking Minneapolis homicide cops...Once again we get to play cops and robbers with this entertaining band of offbeat characters."
—BookReporter

"A suspenseful fast-paced story you can't wait to finish. I highly recommend The Guilty Dead. Once you begin, you won't stop until the last page, it's that compelling."
—Catherine Coulter, New York Times bestselling author of the FBI Thrillers

"The Guilty Dead is a cut above. The stakes are higher, and nothing is as it seems. This is Tracy at her gritty, elegant best. Do not miss it."
—J. T. Ellison, New York Times bestselling author of Lie to Me

"Like a runaway mountain train, this story rapidly picks up steam, throwing readers about its murky cabins as it careens relentlessly through twists and turns, culminating in a shocking, profoundly satisfying end."
—Top Shelf Magazine

"Another carefully crafted and simply riveting mystery by a master of the genre."
—Midwest Book Review

Praise for the Monkeewrench series:
"Enjoyable...Tracy's easy style keeps the action moving nicely to the satisfying conclusion."
—Publishers Weekly on Nothing Stays Buried

"The banter is witty, the characters quirky, the plot action-packed."
—Minneapolis Star Tribune, Summer Reads Pick on Nothing Stays Buried

"The eighth Monkeewrench novel, like its predecessors, relies on character as much as crime, and the authors...have created a fine recurring cast that nicely mixes crusty, bantering cops and eccentric software geeks."
—Booklist on Nothing Stays Buried

"A solid series that combines lighthearted characters and storytelling with serious mysteries."
—Booklist on The Sixth Idea

"Entertaining...The Monkeewrench gang need all their various skills to track other descendants, protect Lydia, uncover a clever conspiracy, and help end the carnage in this successful mix of detection and thriller."
—Publishers Weekly on The Sixth Idea

"If you haven't been introduced to the Monkeewrench gang you are missing out...Tracy skillfully incorporates a diverse array of elements ...while keeping the thrill level high and the writing sharp and frequently funny.... A top-notch title for series followers."
—Library Journal on Off the Grid

"Exciting...The two main story lines converge in a gripping finale in the Minnesota woods."
—Publishers Weekly on Off the Grid

"A chilling premise; a supremely appealing cast of evolving characters; and dialogue that is brisk, witty, and authentic. Humor and humanity mix in this top-notch mystery, the best in the series."
—Booklist on Shoot to Thrill

"The mother-daughter team of Patricia J. and Traci Lambrecht, who write this genial series, crack wise jokes (Gino snickers about another cop, 'She's probably at home right now watching reruns of NYPD Bluetrying to figure out what...she's supposed to do next'), and the authors have another icicle-sharp plot."
—Entertainment Weekly on Snow Blind

"An engaging puzzle with a vigilante twist...[A] gripping and original set-up for the next Monkeewrench volume."
—Kirkus Reviews on Snow Blind

"The dynamite Tracy team is in a category all their own with their ability to produce terrifying and thought-provoking suspense while delivering humor and quirky characters. Their latest tackles one of society's toughest issues — asking hard questions and setting up tragic scenarios where no one is a winner. As this series expands, the rapport between characters and the highly intriguing plots make it one worth reading and rereading."
—Romantic Times on Snow Blind