You are here
Back to top
Those Who Perish: Caleb Zelic Series: Volume Four (Pushkin Vertigo #34) (Paperback)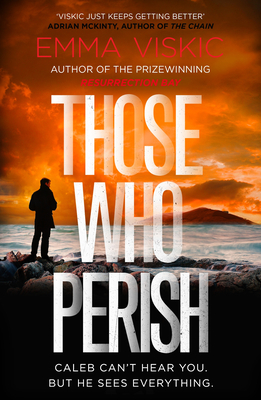 $14.95

Usually Ships in 1-5 Days
Description
---
"Superb... The author's remarkable gift for enabling hearing readers to imagine Zelic's often silent or inaudible world lifts this above the pack… an impressive page-turner!" --Publishers Weekly, starred review

The thrilling finale of the groundbreaking Caleb Zelic series, perfect for fans of Jane Harper, from the award-winning author of Resurrection Bay

Caleb Zelic can't hear you. But he can see everything.

Caleb's addict brother, Anton, has been missing for months, still angry about Caleb's part in his downfall.

After almost giving up hope of finding him, Caleb receives an anonymous message alerting him to Ant's whereabouts and warning him that Ant is in danger. A man has been shot and Ant might be next.

Caleb reluctantly leaves his pregnant wife's side and tracks his brother to an isolated island where Ant has been seeking treatment. There, he finds a secretive community under threat from a sniper, and a cult-like doctor with a troubling background.

Caleb must hunt for the sniper to save Ant, but any misstep may ruin their faltering reconciliation, and end in death. When body parts begin to wash up on shore, it looks like the sniper is growing more desperate...
About the Author
---
Emma Viskic is an award-winning Australian crime writer. Her critically acclaimed debut Resurrection Bay was shortlisted for two CWA Daggers and won five Australian awards, including the Ned Kelly Award for Best Debut. Its sequel, And Fire Came Down, won the Davitt Award for Best Adult Novel while Darkness for Light won the Readers Choice Award. Emma studied Australian sign language (Auslan) in order to write the Caleb Zelic thrillers, of which Those Who Perish is the fourth.
Praise For…
---
"Superb... The author's remarkable gift for enabling hearing readers to imagine Zelic's often silent or inaudible world lifts this above the pack. This impressive page-turner enables even newcomers to feel an immediate affinity with Viskic's flawed lead."
--Publishers Weekly, starred review

"A taut and fitting finale, delivering great characters and sense of place, as well as humanity. Viskic's prose sings"
--Craig Sisterson, Mystery Scene