You are here
Back to top
Other People's Beds (Paperback)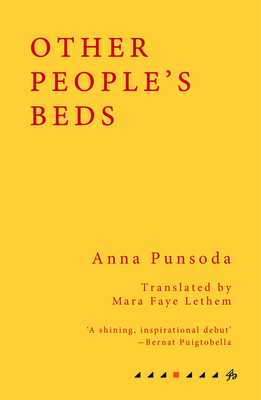 $19.95
Email or call for special order
Description
---
In her novel, Other People's Beds, Anna Punsoda shines a light onto the darkest corners of the soul with clean, sharp prose that is punchy, devastating, and tender at the same time. Beautifully highlighting her protagonist's body, a body that has been carved out of stone by her father's alcoholism and her mother's frustrated apathy, Punsoda weaves a story that is as shocking and sad as it is funny and liberating. Claustre's stolen innocence leads to her to losing herself in other people's beds. This powerful debut is written with such ease and fluidity that Punsoda is most definitely a writer to watch.
About the Author
---
ANNA PUNSODA is a writer and journalist. Writing for numerous newspapers and magazines, she has been editor for Dialogal magazine since 2020. She won the Roc Boronat Premi for Other People's Beds.
Born in New York, MARA FAYE LETHEM is a writer and literary translator from Catalan and Spanish. She has translated many different titles into English, and her work has appeared in numerous publications.