You are here
Back to top
The Madness (Paperback)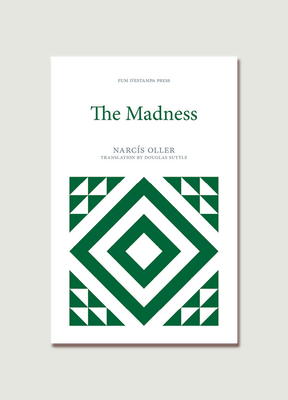 $19.95
Email or call for special order
Description
---
Written in nine chapters separated into three blocks, Narcís Oller's The Madness is one of the first literary pieces of work to aim to truly analyze the social and genetic causes and results of mental illness. Told through the eyes of an anonymous "narrator" character, The Madness tells the story of a young revolutionary called Daniel Serrallonga and his gradual deterioration into madness and delusion. Set against the backdrop of the political crisis that ripped Spain apart in the mid to late 19th century and laid the foundations of the Spanish Civil War, The Madness is a fascinating study of mental health within both rural and urban Catalan society.

As relevant and entertaining now as it was when it was first published, this lively translation brings this fantastic piece of literature to new, modern audiences while drawing parallels with some of the 19th century's greatest English language writers such as Charles Dickens and Thomas Hardy.
About the Author
---
Narcís Oller (1846-1930) is widely considered to be one of the founding fathers of the Catalan literary renaissance. Through his use of realism and naturalism styles, he brought to life rural and urban Catalan life and society from the 19th and 20th centuries, incorporating many of the sweeping political and social changes from the time in his works. His ability to create rich characters, beautiful landscapes and storylines that deal with the human psyche at its most extreme mean that he is still just as relevant as he was 100 years ago. 

Douglas Suttle is a writer, translator and editor based in Catalonia. As well as writing for several newspapers and magazines throughout Europe, he translates to and from Catalan and English for a number of publishing houses and has collaborated with various governmental agencies in the promotion of Catalan language. In addition to his English-language work, in 2021 his verse translation of Beowulf will be published in Catalan.
Praise For…
---
"The Madness is no dense, nineteenth-century tract. Rather, it's lively and witty: a tragedy, but written in a light, sometimes comic key."—Michael Eaude, Catalonia Today
 
"Sharply translated by Douglas Suttle, who has smoothly adopted a rather dated language and renders Oller's original text into subtle, flowing prose, The Madness is a politically, historically and socially significant novel that suggests Fum d'Estampa Press has a lot more to say."—Eleanor Updegraff, www.shinynewbooks.co.uk
 
"This book is definitely a small gem. It mixes the humorous and serious very well, gives us an excellent view of late nineteenth century Catalonia and shows a healthy disrespect for authority, at least authority in late nineteenth century Spain."—The Modern Novel
 
"The Madness is a journey into the mind of a man losing his grip on reality, it's a psychological portrait that reflects on the lack of understanding of mental health by his contemporaries but it's also an exploration of new ideas of psycho-analysis and positivism."—Paul Burke, NB Magazine