You are here
Back to top
April Fools (Paperback)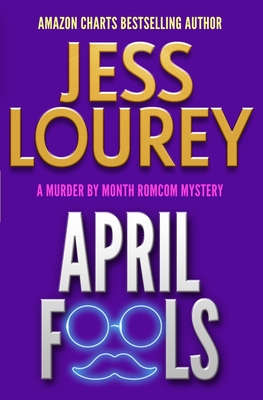 $14.99
Usually Ships in 1-5 Days
Description
---
"I laughed, gasped, and cried (all out loud)." -Catriona McPherson, author of Scot and Soda

Librarian and aspiring PI Mira James has discovered one corpse a month for each of the eleven months she's lived in Battle Lake, Minnesota. She'd give her left foot to break that streak this April.

Then she stumbles across that disturbing note, and a Battle Lake girl vanishes.*

She follows the note's trail and is horrified to discover that it leads to her father, who died 13 years earlier in a drunk driving crash that killed innocents. To make matters worse, chiseled police chief Gary Wohnt is scrutinizing her every move, aching to finally put her behind bars. And the cherry on this crap sundae? Mira discovers that her sexy Adonis boyfriend, Johnny, is planning a surprise for her. Problem is, she doesn't know if it's a marriage proposal or an intervention.

As Mrs. Berns and Mira take on their final case together, Mira discovers it's more personal than she could have imagined, and that she holds not only the life of the kidnapped girl but the fate of all Battle Lake in her hands.
*There's also a surprise "guest" appearance.

April Fools is a laugh-out-loud romantic comic caper, perfect for readers who enjoy the humorous mysteries of Janet Evanovich, Deborah Coonts, Lisa Lutz, and Denise Grover Swank. If you love to laugh while reading a page-turning mystery, this series is for you

April Fools is the twelfth in an ongoing series featuring Mira James, an urban woman with rural Minnesota roots. The books can be read in any order; each novel stands alone. Get all the Mira James mysteries today

May Day
June Bug
Knee High by the Fourth of July
August Moon
September Mourn
October Fest
November Hunt
December Dread
January Thaw
February Fever
March of Crime
April Fools

Or, if you love to sink into a satisfying binge read, check out the bundles

Mira James Mysteries Summer Bundle, Books 1-4 (May, June, July, and August)
Mira James Mysteries Fall Bundle, Books 5-7 (September, October, November)
Mira James Mysteries Winter Bundle, Books 8-10 (December, January, February)

PRAISE FOR APRIL FOOLS

" C]ouldn't put it down." ―Linda (five stars)
"A thumping good read " -Ann, (four stars)

"I read this out of order. It made no difference and I absolutely loved it...What sets this book apart that it is both lighthearted and edgy It doesn't feel like your average vanilla, 'the librarian is the sleuth' mystery...this is a fast-paced page turner." ―Jane B. (NetGalley, five stars)

"What a fun, cheeky, cleverly-plotted book This is well-constructed and kept me interested throughout. I'm not the typical 'mystery reader' but the cover drew me in and I was very glad I gave it a chance. Recommend " ―Jenna H. (NetGalley, four stars)

"Deeply satisfying, funny, moving, as tightly plotted as ever. The end of Mira's adventure gives us exactly what we want and yet still leaves us thinking." ―Catriona McPherson, award-winning author of Scot and Soda